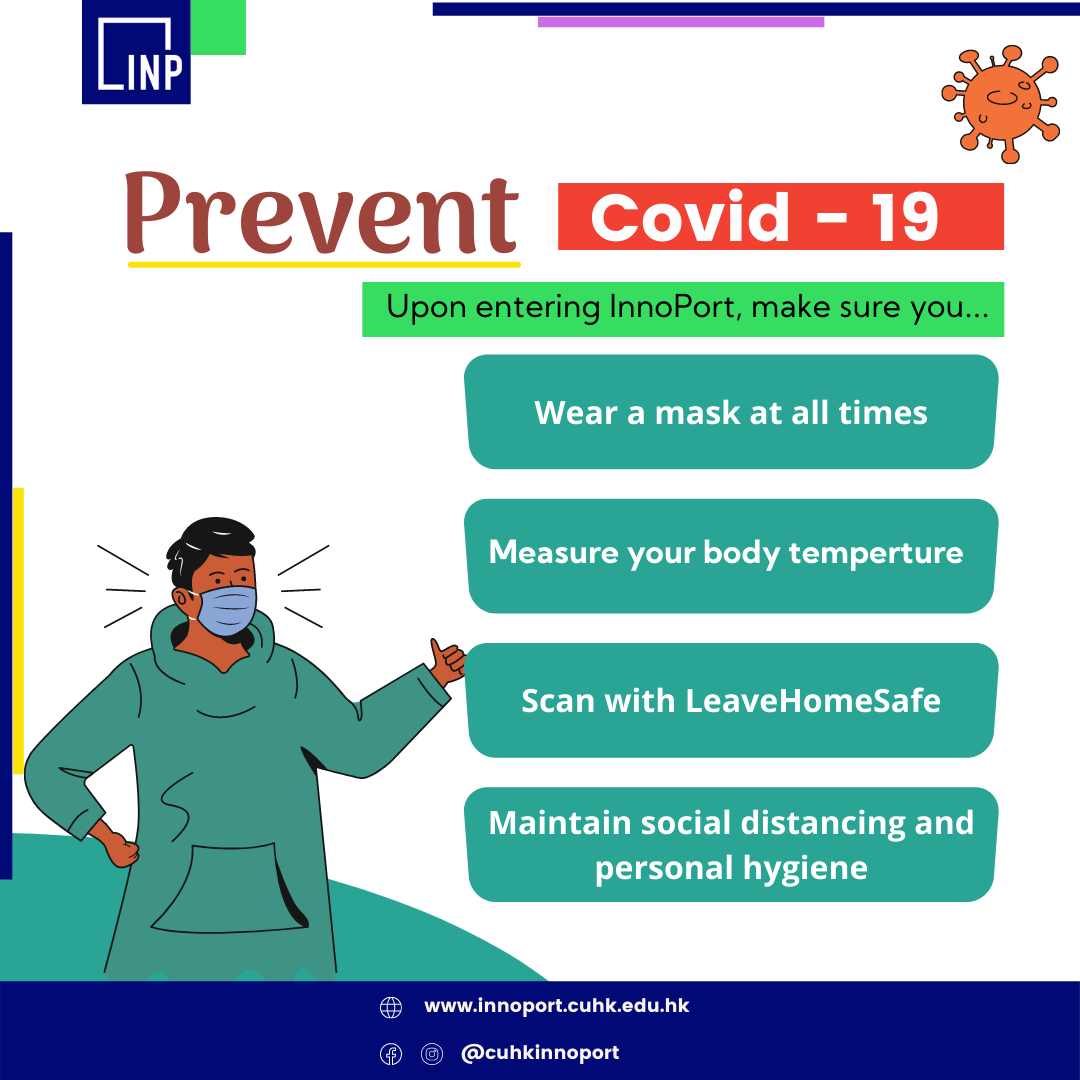 【Preventive Measures@InnoPort】 
Given the recent development of the pandemic, InnoPort, while continuing to open the space to users, has stepped up the cleaning and precautionary measures.  To protect everyone's health, upon entry to InnoPort, make sure you have observed the following measures.  
👉wear a face mask and take your body temperature  (ensuring lower than 37.5C)
👉Scan with LeaveHomeSafe
👉maintain social distancing
👉pay attention to personal hygiene (e.g. sanitize or wash your hands frequently)
👉have your food and drinks in the designated eating zone in UGB
👉contribute to the maintaining of cleanliness in communal areas  
We will closely monitor the development of the pandemic and further measures will be announced if necessary. If you have any inquiries, please contact innoport@cuhk.edu.hk. 
For detailed guidelines, you may refer to the announcement of The Registry.
【創博館防疫措施】
鑑於近期疫情變化,創博館在繼續保持開放的同時,會加強清潔和預防措施。為保障大家的健康,在進入創博館時,請確保時刻遵守以下措施。
👉戴上口罩並量度體溫(確保37.5C以下)
👉掃描 「安心出行」二維碼
👉保持社交距離
👉注意個人衛生(經常消毒或洗手)
👉在 UGB 的指定用餐區進食
👉保持公共空間整潔衛生
我們將密切留意疫情發展,如有進一步措施安排,將另行公布。查詢請聯絡 innoport@cuhk.edu.hk。
詳細指引可參閱教務處公告
 ===
📅InnoPort / ORKTS Upcoming Events 👉 https://bit.ly/3lZAtbu
📖 Subscribe to ORKTS Newsletter & Cubic Zine 👉https://cutt.ly/uEYNj3c
📰 Cubic Zine Archive 👉https://bit.ly/3sqDaGP
===
#CUHK #中大 #創業創新 #Innovation #Entreprenuership #知識轉移 #ORKTS #CUHKInnoPort #創博館