More

Thursday, 5th Nov 2020

17:30-18:30

Host

CUHK Pre-Incubation Centre (Pi Centre)

Speaker / Guests of Honour

Cyberport Entrepreneurship Team

Enquiry

PI Centre

|

picentre@cuhk.edu.hk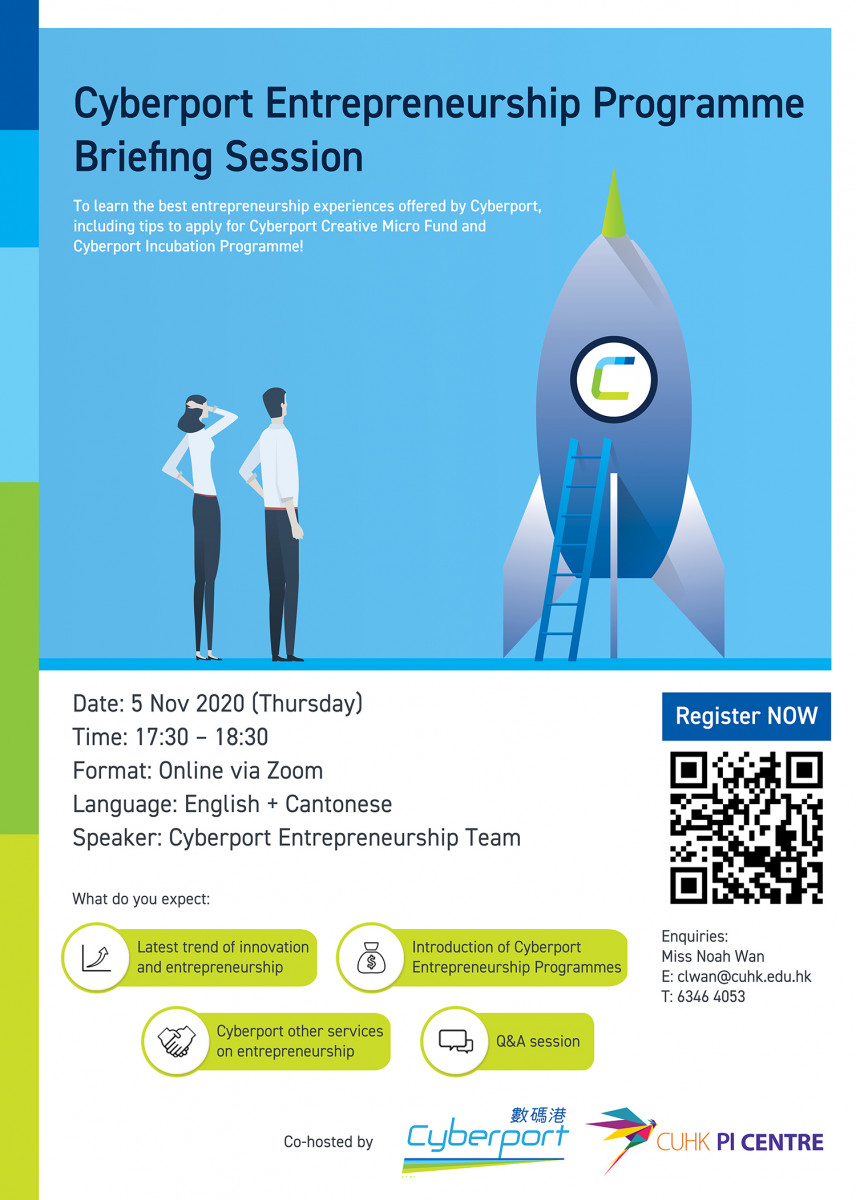 Want to learn about the latest trends in innovation and entrepreneurship and what support Cyberport can provide you on your startup journey? Then don't miss out on this briefing session! Cyberport's Entrepreneurship Team will be introducing to us the entrepreneurial support and programs available for entrepreneurs.
Rundown:
– Latest trend of innovation and entrepreneurship
– Introduction and application tips of Cyberport Entrepreneurship Programmes*;
– Cyberport other support services on entrepreneurship
– Q&A session
*Several entrepreneurship programmes will be open for applications in mid-Oct, including:
(1)   Cyberport Greater Bay Area Young Entrepreneurship Programme (Cyberport GBA YEP) (Application deadline: 4 Dec 2020)
The programme provides all-round support, including an entrepreneurship boot camp, mentorship and up to HK$1,000,000 funding, to the youths aged in 18-30 in Hong Kong, Macau and Guangdong region to kick start their ideas and businesses, allowing them to unleash their potential and lay the foundation for start-up success in Greater Bay Area as well as exploring global business opportunities.
*Will be conducted in Cantonese*
(2)   Cyberport Creative Micro Fund (HK Programme) (Application deadline: 1 Dec 2020)
The programme provides HK$100,000 cash grant to turn your idea into prototype for proof of concept.
(3)   Cyberport Incubation Programme (Application deadline: 1 Dec 2020)
The programme provides up to HK$500,000 financial assistance with a range of business and professional services to accelerate your business growth.