Register Now

Monday, 2nd Aug 2021

11:00am-12:00pm

Zoom

Host

Office of Research and Knowledge Transfer

Speaker / Guests of Honour

Speakers:
Dr. Albert Chan / Partner at the Law Offices of Albert Wai-Kit Chan, PLLC
Ms. Tracy Pang / Technology Development Manager at ORKTS, CUHK

Enquiry

InnoPort

|

innoport@cuhk.edu.hk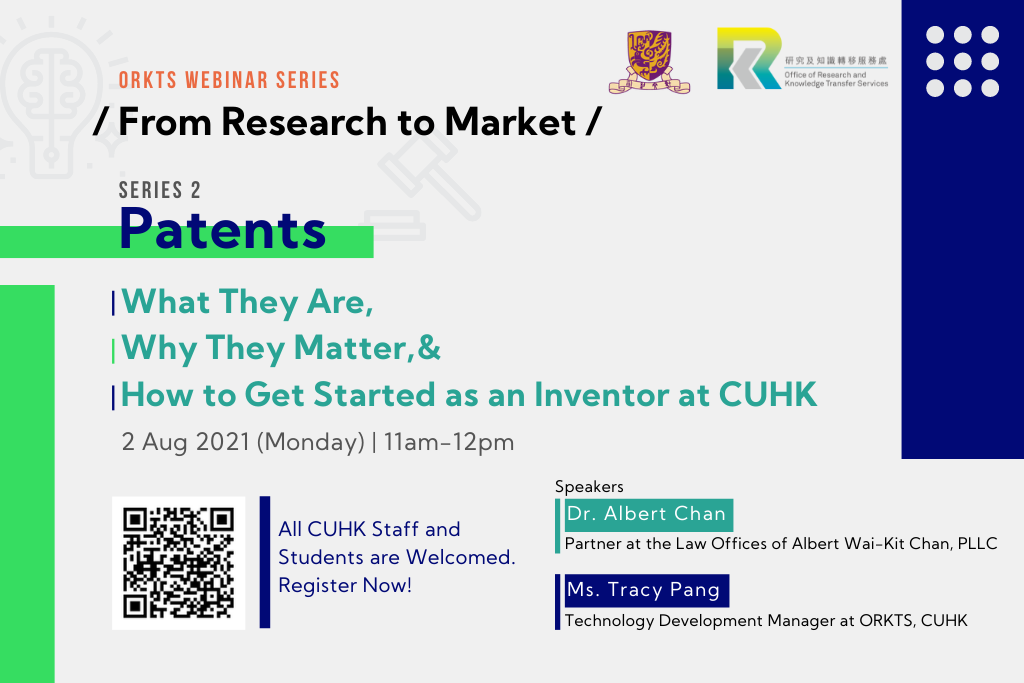 In today's knowledge economy, intellectual properties (IP), particularly patents have become important assets of organizations and companies in their pursuit of economic benefit and creation of social impact.  However, getting a patent is far more challenging than it seems given all the legal requirements and formalities to be satisfied before a patent is granted.
This seminar will first provide an overview of patent basics such as –
the patent systems worldwide,
what are patentable subject matters,
common types of patent applications,
strategies and timelines for filing, and
issues to watch out as an academic inventor.
The second part of the seminar will focus on the IP-services provided by ORKTS, particularly professional services and university funding available for patent filing, and how ORKTS will help CUHK Inventors to navigate through the arduous and rewarding journey of IP protection and development.
Date: 2 Aug 2021
Time: 11am-12pm
Speakers:
Dr. Albert Chan / Partner at the Law Offices of Albert Wai-Kit Chan, PLLC
Ms. Tracy Pang / Technology Development Manager at ORKTS, CUHK
Format: Zoom
Register: https://bit.ly/3BaF5kz
Enquiries: innoport@cuhk.edu.hk